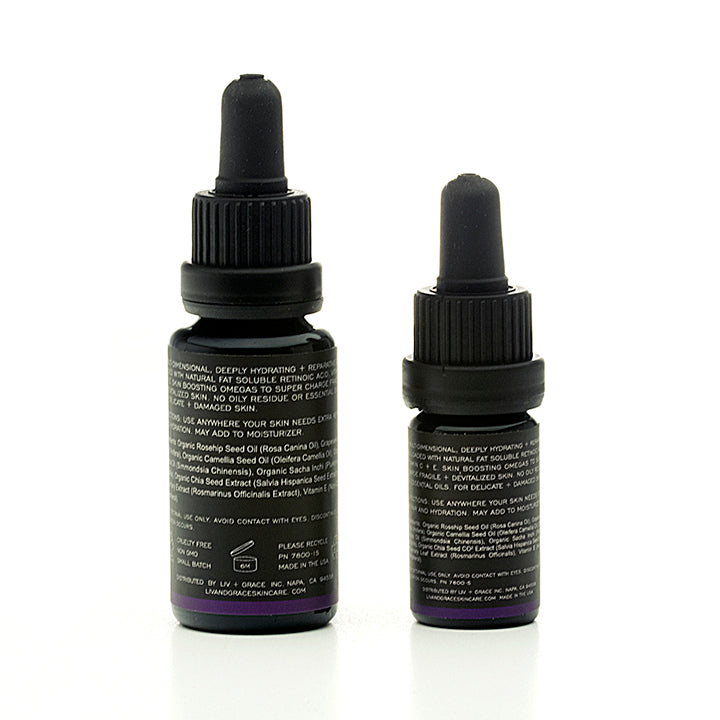 Rescue Hydrate Facial Serum Travel Size
Description
Key Ingredients
Our Mission
Rescue Hydrate Facial Oil Serum (RH) Travel Size
(Plant Based Retinol Alternative)
Quickly becoming our front runner,
Rescue Hydrate Facial Oil Serum 
is a plant based retinol alternative with mega doses of skin loving vitamins A, C and E, naturally!  
"Rescue Hydrate works its magic by plumping, nourishing and repairing even the most reactive, sensitive or fragile skin. It is safe enough to use on pregnant women too",  Founder and Holistic Aesthetician, Cindy O'Brien.
Rich, Reparative and Soothing facial oil serum loaded with Mother Nature's highest percentages of plant based VITAMINS- A, C and E.  Rescue Hydrate's ingredients work synergistically and naturally to help build collagen, repair acid mantle damage, gently carry other serums deeper into the skin and quickly start to heal dry or fragile skin. Its active botanical ingredients provide essential fatty acids, an abundance of free radical scavenger antioxidants, whole plant nutrient dense vitamins and intense plumping hydration without leaving an oily feel.
Rescue Hydrate Facial Oil Serum also doubles as a product BOOSTER to increase hydration and nutrients in serums, toners + moisturizers. Excellent for around the eyes, lips and ultra sensitive, dehydrated and dry reactive skin. 
Use post chemical peels for quick, effective and gentle repair without toxic ingredients found in most post skincare protocols.
Rescue Hydrate deliberately has NO essential oils to prevent irritation and allergic reactions. 
Star Ingredients
We use the finest and purest cold pressed ingredients available. 
Organic Chilean Rosehip Oil - extraordinarily high levels of both fat soluble vitamin A (safe and Natural Retinoic Acid)  and bioavailable vitamin C to help build strong collagen, protect against environmental assault and support healthy skin metabolism.
Organic Peruvian Sacha Inchi Oil - rare precious oil which has one of the highest levels of healing omega 3 (48%), omega 6 (39%) and natural vitamin A + E.

 

Rich combination of natural phytonutrients proven to be excellent for rejuvenating aging and damaged dry skin.
Wildcrafted Organic Camellia Seed Oil - Dry Tea Seed Oil (not tea tree) is rich in essential fatty acids, anti-oxidants and phytonutrients. Excellent age defying benefits and minimizing free radical damage.
Organic Chia Seed CO2 Extract - light weight, fast absorbing anti-oxidant with a non greasy feel. Fights against signs of premature aging.
Premium Napa Valley Grapeseed Oil - fights inflammation, reduces itching and improves skin elasticity.
Organic Jojoba Oil - closely mimics natural human sebum to balance oil production.
$46.00  5 ml  travel
We care about every ingredient in our skincare collection because we care about you. Each product and ingredient is carefully researched and vetted to be the cleanest and safest available. + Learn More
Our unwavering commitment to creating products that are both good for your skin and for the eco-system. We believe in full transparency—no greenwashing here! We strictly use ingredients that are a blend of clean science and clinically proven actives in therapeutic dosages. LIV + GRACE products contain well-researched, non-toxic ingredients to trigger the body's natural healing and protective processes. + Learn More
Write a review
Rescue Hydrate Facial Serum Travel Size